Lin Foulk
is Associate Professor of Horn at Western Michigan University, where she teaches horn, coaches chamber ensembles,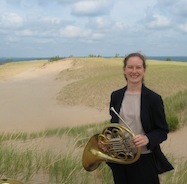 and is a member of the Western Brass Quintet and Western Wind Quintet. She has performed with Boston Brass, Monarch Brass, and as a soloist at five International Horn Symposia (including Valencia, Spain). In Michigan she frequently performs with the Fontana Chamber Ensemble as well as the Grand Rapids, Kalamazoo, and Battle Creek Symphony Orchestras. She has served as Principal Horn with the Oshkosh and Manitowoc Symphony Orchestras, was a member of the Wisconsin Chamber Orchestra and the Wisconsin Wind Orchestra (with which she toured the Netherlands in 2001) and has frequently performed as substitute and extra musician with the Milwaukee and Madison Symphony Orchestras. With the Western Brass Quintet she has performed in Carnegie Hall in New York City; in Bangkok, Thailand; Moscow and St. Petersburg, Russia; Chengdu, China; and at universities across the United States. She performed and presented classes in Tegucigalpa, Honduras with the Western Wind Quintet. During the summer, she teaches horn and chamber music at the Kendall Betts Horn Camp in Lyman, New Hampshire.

Especially interested in music with horn by female composers, Dr. Foulk has performed and presented lectures on works by women and female performers at universities and festivals throughout the United States.
Her first compact disc, "Four Elements: Works for Horn and Piano by Female Composers," was released in 2004. She has also published an annotated guide to works for horn and piano by female composers and a website at www.linfoulk.org, which lists over 1,000 works with horn by female composers. She currently serves on the Board of the International Women's Brass Conference (she co-hosted the IWBC Conference in 2012) and she recently served on the Board of the International Alliance for Women in Music, in which she organized IAWM's only public annual event for three seasons, a concert held in various cities throughout the United States.

Dr. Foulk received the Doctor of Musical Arts and Master of Music degrees from the University of Wisconsin-Madison and a Bachelor of Music degree from the University of Missouri-Kansas City. Her principal teachers include Douglas Hill, Nancy Cochran, Lawrence Lowe, and Bruce Heim. Originally from Macon, Missouri, she has dedicated herself to music since her teens, receiving the Governor's Scholar Award (sponsored attendance at the Interlochen Arts Camp) in 1994 and a National Foundation for Advancement in the Arts Award in 1993.


Western Michigan University Horn Studio Page